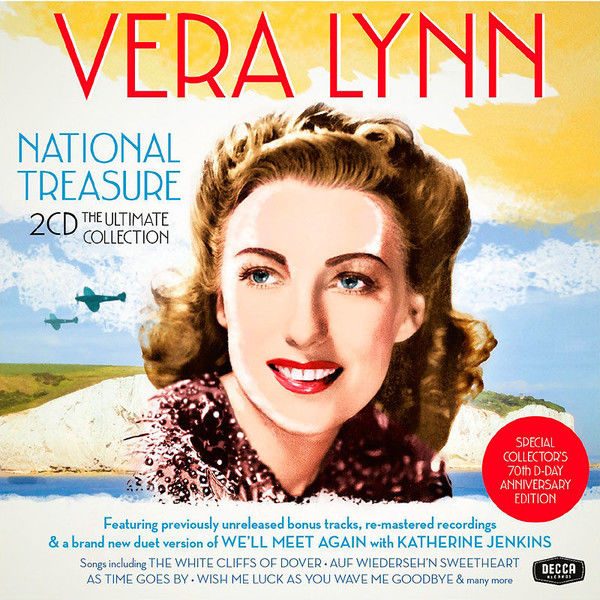 Artist:
National Treasure - The Ultimate Collection
The 6th June 2014 was the 70th Anniversary of the D-Day landings of WWII. To coincide with this anniversary, Decca Records release National Treasure – The Ultimate Collection, a 2CD album of Forces' darling Vera Lynn's most memorable hits which all contributed towards Great Britain's war effort. It also includes a brand new duet version of We'll Meet Again with operatic superstar Katherine Jenkins.
For the first time on a Vera Lynn collection, the album features over 40 top 25 chart hits from 1940 - 1945, including five #1 hits, three previously unreleased songs, one previously unissued alternative take and many recordings which have been completely re-mastered for this release, using special state of the art audio transfer techniques from the original un-played source.
TRACKS:
DISC: 1
1    We'll Meet Again     
2    Wishing (Will Make It So)     
3    Wish Me Luck As You Wave Me Goodbye     
4    I'll Pray For You     
5    Goodnight Children, Everywhere     
6    It's A Lovely Day Tomorrow     
7    I Hear A Dream     
8    When You Wish Upon A Star     
9    A Nightingale Sang In Berkeley Square     
10    The Woodpecker Song     
11    I'll Never Smile Again     
12    The Mem'ry Of A Rose     
13    Love Is All     
14    Room 504     
15    Who Am I     
16    Do I Love You?     
17    The Bells Of St. Mary's     
18    Yours     
19    I Don't Want To Set The World On Fire     
20    I'll See You Again     
21    That Lovely Weekend     
22    (There'll Be Bluebirds Over) The White Cliffs of Dover     
23    How Green Was My Valley     
24    Home Sweet Home     
DISC: 2
1    Someone's Rocking My Dreamboat     
2    White Christmas     
3    That Autumn In Old London Town     
4    When The Lights Go On Again     
5    I'm Yours Sincerely     
6    I've Heard That Song Before     
7    You'll Never Know     
8    Close To You     
9    It Can't Be Wrong     
10    Besame Mucho (Kiss Me)     
11    I'm Sending My Blessings     
12    It's Like Old Times     
13    Long Ago (And Far Away)     
14    Shine On Harvest Moon     
15    Little Star (Estrellita)     
16    Do You Ever Dream Of Tomorrow?     
17    Coming Home     
18    Christopher Robin Is Saying His Prayers     
19    A Child's Prayer     
20    A Little Bit Of Heaven     
21    Believe Me, If All Those Endearing Young Charms     
22    Auf Wiederseh'n Sweetheart     
23    As Time Goes By     
24    We'll Meet Again - Vera Lynn, Katherine Jenkins
Formats: