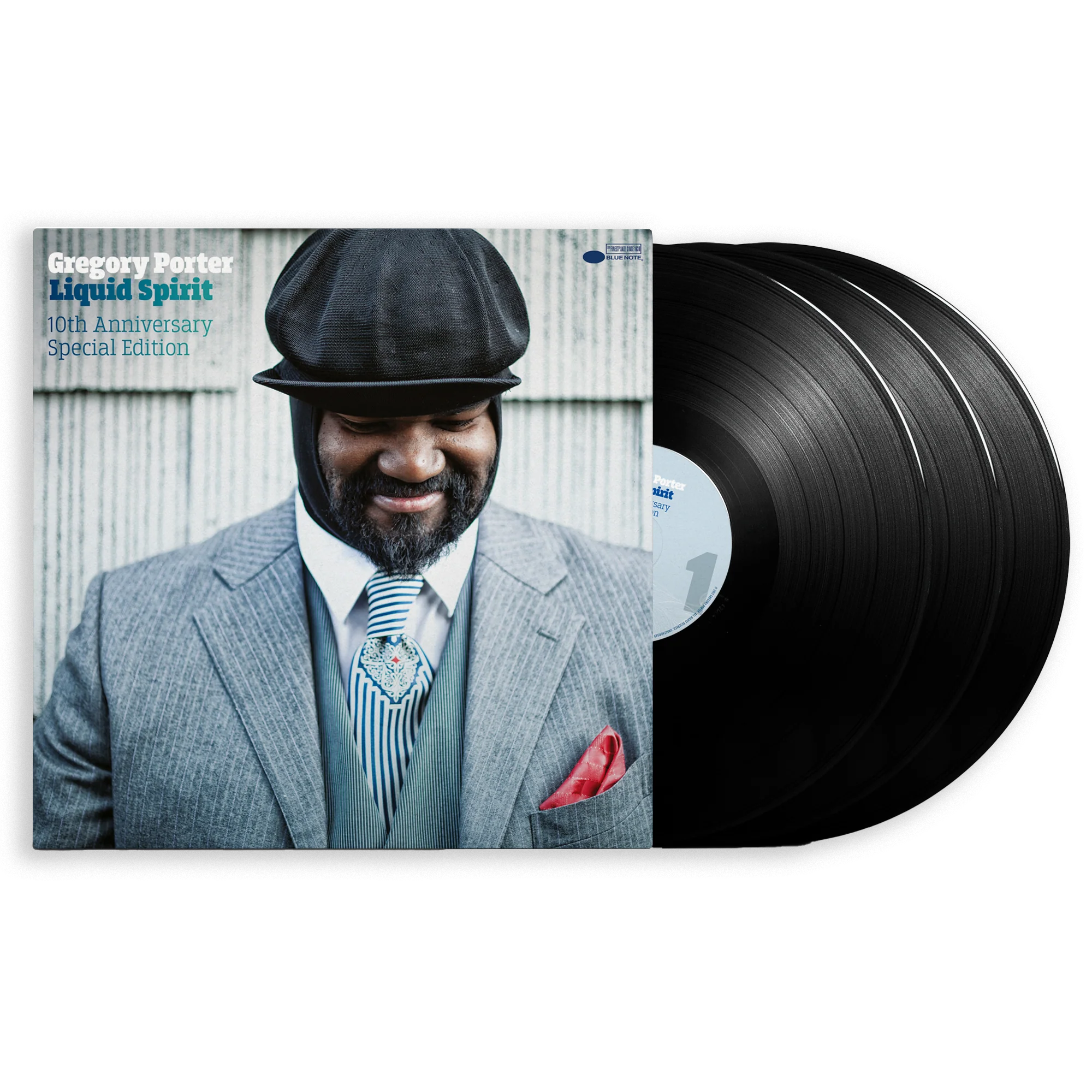 Artist:
Liquid Spirit: 10th Anniversary Edition
After two solid albums on Motema, both of which earned GRAMMY nominations, Gregory Porter made his Blue Note debut with Liquid Spirit in 2013. Recommencing with the water analogy that characterized his debut disc, Porter saw Liquid Spirit as a logical progression in his burgeoning discography as it touched on some of the same themes, particularly the highs and lows of romance, his childhood, and socio-political observations. The strength of Liquid Spirit lies in Porter's songs, based upon personal experiences with a relatable and emotional immediacy. Even more, his hooky melodies penetrate instantly. 

Hailed by public and critics alike, Liquid Spirit won the Grammy Award for Best Jazz Vocal Album in 2014. Platinum in the UK and Germany, gold in France, the Netherlands and Austria, the album has sold over a million copies worldwide.

Marking the 10th anniversary of the album, Blue Note presents a special vinyl edition bringing together the original album on 2LP and a disc of bonus tracks and remixes, with 5 tracks available on vinyl for the first time.
SIDE A
1.    No Love Dying 3:56
2.    Liquid Spirit 3:36
3.    Lonesome Lover 3:11
4.    Water Under Bridges 3:33
5.    Hey Laura 3:33
SIDE B
6.    Musical Genocide 3:45
7.    Wolfcry 4:10
8.    Free 5:01
9.    Brown Gras 4:17
SIDE C
10.    Wind Song 3:24
11.    The In Crowd 3:37
12.    Movin' 4:50
13.    When Love Was King 6:53
SIDE D
14.    I Fall In Love Too Easily 7:49
15.    Time Is Ticking 3:23
16.    Water Under Bridges (Rubato Version) 4:43
SIDE E
17.    Water Under Bridges (featuring Laura Mvula) 3:51 *
18.    Don't Let Me Be Misunderstood (featuring Jamie Cullum) 2:58
19.    Grandma's Hands (featuring Ben L'Oncle Soul) 3:33 *
SIDE F
20.    Hey Laura (Rainer & Grimm Remix) 3:36 *
21.    Liquid Spirit (Claptone Remix) 2:44
22.    Liquid Spirit (20syl Remix) 3:27 *
23.    Musical Genocide (Ludovic Navarre Aka St Germain Version) 5:02
24.    Liquid Spirit (Knuckle G Remix) 4:46 *
 
* First release on vinyl
Formats: